McDuffie
Pest Control
Serving the Carolinas since 1964.
Who We Are
McDuffie Pest Control is an independently family-owned business serving Southeastern, NC and Northeastern, SC.  Walter McDuffie started McDuffie Pest Control in 1964 with one part-time employee, who is still on our team today.
McDuffie Pest Control strives to provide affordable pest management services that demonstrate true professionalism to our customers.  We utilize the safest materials and methods possible, such as Integrated Pest Management, to prevent unwanted infestations of pests and rodents.  We offer a large array of services to meet the needs of our commercial and residential customers.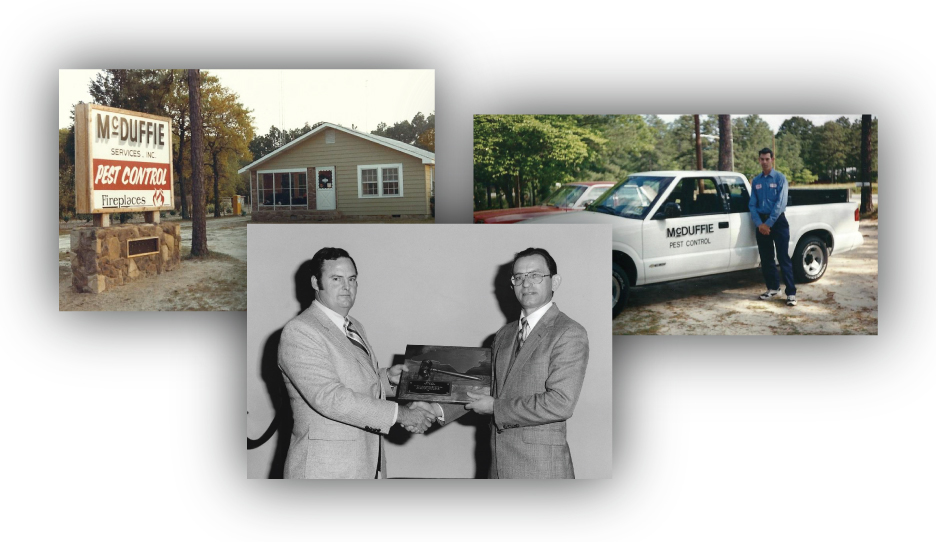 Home Pest Control
We utilize Integrated Pest Management practices in order to protect your health, property and your environment.
Commercial Pest Control
We offer "facility specific" rodent and pest management services in accordance to USDA, FDA, NCDA & other agencies.
Termite Control
They are known as the "silent killers" because they often go unnoticed while they bring significant damage to homes and yards.
Bed Bug Control
Bed bugs primarily feed on humans, but they can also feed on warm-blooded animals including birds, mice and family pets.
Moisture Control
CrawlSpace Care is a system that is installed to protect the micro-environment of the crawl space.
WDIR Reports
Whether you are a real estate agent or a home buyer yourself, you should become familiar with the Wood-Destroying Insect Inspection Report (WDIR)
What Our Customers Are Saying
Raye Lamerdin
October 9, 2023
Our service guy is Shane. He is always on time and very efficient. He is an extremely nice guy and really knows his stuff. We are so happy we found McDuffie Pest Control.
Betty Rice
October 6, 2023
Effective and professional service. We love Daryl!
Robert Morris
October 2, 2023
If you're looking for quality work get with them. Professional and knowledgable. Office admin are awesome as well. Great communication.
Will Mixon
September 21, 2023
The employees are the best and treat you rite and very helpful and all I recommend them for all my pest needs
Allen Bracey
September 11, 2023
Great company with amazing customer service!
April Gregg
August 29, 2023
Mr Shane came to inspect our home. Explained the process very thoroughly and was very professional and kind about it all. He also gave a fair price. Better than anyone else I have called.
Sue Benton
August 10, 2023
Ryan was very professional and friendly. He's an asset to your company.
Amanda Rogers
July 27, 2023
I'm very pleased with the service and the professionalism of Shane Ivey
Get Your Free Estimate
Thank you for your interest in McDuffie Pest Control! To get your free quote, simply fill out this form and one of our friendly team members will follow up with you shortly. If you need immediate assistance, please give us a call at (919) 862-3635 to speak with one of our customer service representatives. We look forward to hearing from you!